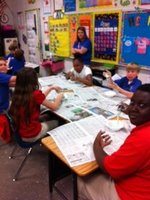 Fourth Graders
Check out all the cool things we are doing in 4th grade!
Readers' Theater
Ms Knight is a student intern in Mrs Johnson's class. She had the students in her 4 th grade science class act out a readers' theater on the different body systems. Each system tried to prove that it was the most important. The judge had to decide which system was the most important. In the end the students learned that all systems are important.
Oobleck
Fourth graders recently experimented with Oobleck as part of a unit on the states of matter. Ms. Knight, a student intern guided the students as they tried to determine if the Oobleck was a solid or a liquid. Do you know? Fourth graders can tell you the answer! They can also tell you that making Oobleck is lots of fun!
Famous Mississippians Reports
Fourth graders have been doing reports on famous Mississippians as a part of listening, speaking, viewing in their language arts classes. The students have to research a famous Mississippian, write a report and present it to the class. Students can bring props, dress as the person, make posters, etc....
Fall Frenzy
Fourth Grade had a "Fall Frenzy" on Thursday, October 31st. The students participated in several fall themes activities through out the day. They made pumpkin bread in their homerooms. Then they carved a pumpkin with Mrs. Johnson, pretended that they were a pumpkin in a patch and wrote letters to persuade people to choose them with Mrs. Mosely, used graph coordinates to create a fall picture with Mrs. Black, wrote an acrostic poem with AUTUMN with Mrs. Partridge and created a fall picture and wrote descriptive sentences using similes, metaphors and other types of figurative lange with Mrs Egbert. It was a wonderful day filled with fall themed learning experiences for all students.
Click here to see a Fall Frenzy photo album
Science Experiments Photo Album