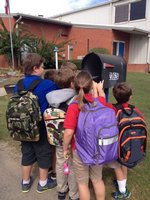 Students mailing friendly letters
This article includes a few of the wonderful things our third graders are doing this year. The most recent is first. Please click here to see a photo album.
Mrs. Johnson's class had a special visitor on Veteran's Day. Mr. Davis (Kendrick's dad) came and spoke to the class about his experiences as a veteran. He drove, maintained and painted tanks. He also told the students how his experiences in the military helped to prepare him for the job he has today.
Our school is fortunate to have Elementary Education students from MSU-Meridian to work and learn with us as part of their senior block classes. Mrs. Hardy worked with Mrs. Johnson's class this fall. She organized a readers' theater about the first Thanksgiving. Students made the hats, practiced parts, performed it for other 3rd grade classes.
Third grade students celebrated a "Fall Frenzy" with special fall themed activities. Students estimated the weight before and after carving a pumpkin, compared it to the actual weight and found the difference, figured out a way to find the circumference and estimated and counted the number of seeds in the pumpkin. They used groups of tens to count the seeds. They also had to write the steps in carving a pumpkin using sequencing words and box the action verbs. The students also wrote colors of autumn poetry, used coordinate planes to plot numbers to create a picture and wrote acrostics using fall words
Third graders wrote friendly letters to friends, relatives, or neighbors. Some of the students decided to mail their letters so they learned the correct way to address an envelope. Thomas, Eli, Slade, Alexa , Conner put their letters in the mailbox to be delivered.
3rd grade students are using the videos move to learn to boost their brain to get ready to learn. Move to learn videos help students refocus for learning and build healthy habits Videos available at movetolearn ms.org

Students presented writings on their favorite places. Students have been using technology to check their email, type up their own writings, insert images, and share their assignments with their teachers and then present them in class
Click here to see the photo album of 3rd grade fun and learning!