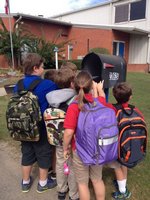 Second Graders
1. Our second graders recently took an exciting field trip to Louisiana. Their first adventure was at the Global Wildlife Center in Folsom, also known as "The Safari in the South". On a guided wagon tour, students were able to see, pet and feed deer, camels, zebras, giraffes, oryx, bison, llamas and antelopes just to name a few. There are over 30 species across 900 acres. Over 4,000 animals live at the center!
Our next adventure was at the Insta-Gator Ranch and Hatchery in Covington. On this working ranch there are more than 2,000 alligators. On our hands on tour we learned about American Alligator conservation, how the ranchers remove the eggs from the nests, fed the alligators marshmallows, petted alligators, and actually held and played with baby gators! We had a great trip and received many compliments on our excellent and outstanding behavior.
2. The second grade recently read a story about Helen Keller. To further their studies, Mrs. Nelson's class hosted Mrs. Wendy Troutman from the Lauderdale County Schools Central Office. Mrs. Troutman works with the hearing and seeing impaired students in our district. She explained the services our district provides and showed us on the computer what it is like to be hearing impaired. Using Ms. Young, she demonstrated what it is like for a blind person in everyday life. She is fluent in sign language and showed us how to sign. She brought many of the books that are used in our district for us to look at as well as Braille books for us to feel. Mrs. Troutman was very interesting. Thank you for coming to see us, Mrs. Troutman!
3. After reading about Helen Keller, Mrs. Nelson's class learned their names in sign language. They also learned the song, "One Small Voice" in sign language and performed it for Mr. Powell.
4. After reading the story "Officer Buckle and Gloria" as well as looking at nonfiction K9 dog stories, Mrs. Nelson's class had the pleasure of a visit from real K9 officers, Deputy Ski and Rex from the Lauderdale County Sheriff's Department. Deputy Ski explained how he got Rex, about Rex's life, how he and Rex learned to work together, and what their jobs entailed. Rex showed us how he looks for illegal drugs. He played with his special treat, a piece of pipe. Deputy Ski explained why Rex has this for his special treat. After learning the correct way to pet him, the students were allowed to pet Rex. We learned a lot about the job of a K9 dog and bringing the outside world into the classroom was very exciting for us. Rex has his own badge and is an important member of the Sheriff's Department. Thank you Deputy Ski and Rex for coming to see us and enlightening us. We really enjoyed listening and learning about you and your job!
5. Mrs. Nelson's second graders were learning to write a friendly letter. They were also studying about community workers. To put a real life situation to the skill as well as practice their writing, students wrote letters thanking our fireman for a job well done. Meridian Fire Chief Anthony Clayton replied to our class. Mrs. Rachel from his office visited us and read us his letter. She also discussed fire safety and what to do when there is a fire. She brought us "happies" too. Thank you to Chief Clayton and Mrs. Rachel!